What's "New" (??)
Watch for the developing "battle of Lake Okeechobee" !
» Read more
LOOK AT FACTS
"Good Question": Why not send more Lake O water south ?
» Read more + VIDEO
LOOK AT FACTS
LAKE OKEECHOBEE AND ITS 9 WATERSHEDS - - - really go together

The Lake used to hold and accumulate rainwater during the wet season, allowing slow drainage, most of it feeding the
Everglades to the south. Disastrous flooding events of the 1920's and 40's prompted accelerated construction of dikes
and canals. While they protect against the floods, drain and irrigate, this huge water diversion scheme has also completely
changed the ecosystem of the Everglades to the point that aquifers and fresh water supply are seriously threatened.
South Florida now has an engineered surface water system that dessicates the Everglades and pollutes estuaries.

Due to man-made pollution, Lake Okeechobee in the center has become the cesspool of Florida.
What's the problem with Lake Okeechobee ?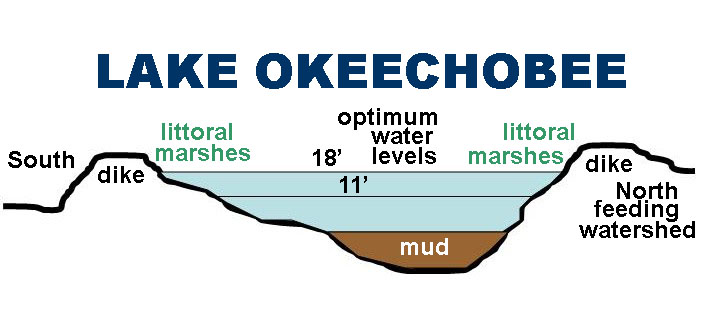 Yes, it is phosphorus (P) that originates primarily from continuing man-generated imports:
urban wastwaters and agricultural activities in the Lake watershed.


Most of that P ends up in Lake Okeechobee which currently contains ~180 ppb of Phosphorus in its water -
40ppb is the recommended maximum.


The bottom muds of the Lake contain some 51,000 tons of P (called "legacy P") that keeps accumulating there as -


the Lake is receiving 656 tons of P per year (2009) - 110 t/year is the recommended maximum
(this TMDL, Total Maximum P Daily Load has never been attained). Most of the incoming excess Phosphorus ends up
being deposited in the Lake muds.
The Lake just cannot cope with the P overload that keeps pouring in !
This is why the lake water is not welcomed anywhere - creating havoc in the estuaries where it curremtly goes
(via the Caloosahatchee and St. Lucie River) - let alone in P-sensitive Everglades located downstream.


Some of the more pleasant facts and brief history of Lake Okeechobee can be seen, for instance, on this video clip provided by the US Army Corps of Engineers (CLICK picture or HERE).
US-ACE are maintaining the Lake's flood-protection system dike (Hoover Dike).
Yes, apart from supporting tourism and recreational activities, the Lake serves as a major and natural water reservoir to buffer Florida's seasonal weather extremes - freshwater is precious and flood protection is a must - -
The South Florida civilization's wellbeing and life depends on both.
Natural freshwater lake - receives water from its 9 watersheds

1-foot rainfall =
3 feet lake rise

Twice as large as NY City - Lake can fill 6-times faster than water can be released

451,000 acres
780 sq miles

Shore Length

9 feet

Maximum Depth

Maximum Elevation

Water Volume

Normal Elevation above sea

14 feet

Catchment/Drainage Basin Area

Water Residence Time

1 f of Lake water level difference =

450,000 acre-feet of water

(approximately)

Water into the Lake

2.58x10exp10 m3

39% rainfall, 31% Kissimmee River

+ smaller inflows

Water out of the Lake

2.20x10exp10 m3

66% evapotranspiration, 12% West

+ 4% East, 18% canals

5 gated outlets and 5 gated inlets

9 pump stations

33 primary & secondary culverts

9 nav. locks

Concentration of Phosphorus in LO is out of control

Expanding mud deposits in Lake Okeechobee

Useful Links for information on Lake Okeechobee
Why can't Engineers dredge Lake Okeechobee to remove the phosphorus loaded muck ?


Muck removal from a smaller Lake like Tohopekalinga is feasible upon draw-down - but this is hardly possible with LO
Although 30,000 tons of the phosphorus that plagues Lake Okeechobee is located in sediments at the Lake's bottom, it may not be economically, practically, or ecologically feasible to remove these sediments by dredging. Not only would the cost of that effort be astronomical ($3 billion according to a 2003 study commissioned for the SFWMD), but the effort could take an impractically long time given the volume of sediments to be removed.
The SFWMD has estimated that 200 million cubic meters of sediment would need to be dredged to remove all internally loaded sediments from Lake Okeechobee. That is enough to fill 250,000 Olympic-sized swimming pools, and "ten times the amount of material removed from any lake in the world." If dredging techniques from another shallow Florida lake (Banana Lake) were used, such dredging this could take as long as 270 years!
In addition, the process could pose unacceptable risks for the Lake's fish and wildlife: dredging would stir up more sediments and expose Lake life to increased turbidity and nutrient levels. The feasibility of dredging was recently studied by SFWMD and its partners as a part of the Lake Okeechobee Sediment Management Feasibility Study. This study concluded that "the no-action" alternative, i.e. no in-lake dredging or chemical treatment, is the preferred alternative.
Instead, the study recommends concentrating control activities in the watershed versus the lake.
(For more information on this study, see Blasland, Bouck & Lee, Inc., Evaluation of Alternatives for the Lake Okeechobee Sediment Management Feasibility Study C-11650: A report prepared for the South Florida Water Management District, April, 2003, here.
Brief History of Lake Okeechobee
| | |
| --- | --- |
| 6,000 years ago | Lake Okeechobee forms |
| 1500's | Tequesta, Mayaimi and Calusa tribes inhabit territory around Lake Okeechobee |
| 1700's | Seminole tribe moves to the lake and calls it Okeechobee, which means big water |
| 1837 | American troops discover Lake Okeechobee in territorial battle against the Seminoles |
| 1839 | Federal Armed Occupation Act encourages Americans to settle Florida |
| 1845 | Florida becomes a state |
| 1881 | Hamilton Disston buys 4 million acres of land around Lake Okeechobee and begins to drain the land and connect the lake to the Caloosahatchee River |
| 1905 | Gov. Napoleon Bonaparte Broward creates the Everglades Drainage District - vows to drain So. Florida swamps. |
| 1915 | First settlers arrive in Clewiston |
| 1926 | Hurricane kills 400 in Moore Haven |
| 1928 | Hurricane kills 2,000 to 3,000 in Belle Glade |
| 1929 | Okeechobee Flood Control District forms |
| 1930 | U.S. Army Corps of Engineers instructed to build a 68-mile levee on Lake Okeechobee's southern edge. |
| 1947 | Hurricanes cause major flooding south of Lake Okeechobee. |
| 1948 | Central and Southern Florida roject for Flood Control and Other Purposes instructs the Army Corps to extend levee around the lake and to dredge and straighten the Caloosahatchee, Kissimmee and St. Lucie rivers for navigation. |
| 1971 | Kissimmee River straightening complete |
| 1975 | Scientists begin to link blue-green algae blooms in Caloosahatchee River to phosphorus pollution coming from Lake Okeechobee |
| 1986 | A gigantic blue-green algae bloom, fed by phosphorus pollution, slimes Lake Okeechobee |
| 1988 | Federal Government sues state and South Florida Water Management District for channeling polluted lake to Everglades National Park. |
| 1992 | State and Federal government settle suit with a consent decree that instructs the state to reduce phosphorus pollution in Lake Okeechobee and to treat water before it enters the Everglades. Congress also instructs Army Corps to re-study the Central and Southern Project for Flood Control. |
| 1994 | State Legislature passes the Everglades Forever Act. |
| 2000 | Re-study results in 30-year, $8 billion Comprehensive Everglades Restoration Plan and Army Corps begins a new water regulation schedule meant to manage the lake at around 15 feet above sea level so that habitat can grow back. |
| 2001 | Billions of gallons of lake water flushed to the estuaries to bring the lake level down, followed by record drought that dropped the lake to about 9 feet. |
| 2004 | Hurricane rains muddy lake water and raise the water level to about 18 feet. |
| 2005 | More hurricanes churn up the lake and keep water levels too high. More than 965 billion gallons of water flushed from lake to Caloosahatchee River. |
| 2006 | Estimated cost of the restoration climbs to $10.8 billion. Half the land needed for the project has been acquired. |
| 2009 | Florida State purchase of 71,000 acres of agricultural (sugar cane) land in the EAA from US-Sugar is seen as instrumental for eventually reconnecting Lake Okeechobee and the Everglades south of it. |

Lake Okeechobee


Possible Remedial Actions for the Lake




STOP Phosphorus from pouring into the Lake !




(see "watershed" problems).



---
To clean the Lake itself is a very complex and costly challenge to be undertaken on a huge scale.
The question is whether, with huge and growing P deposits there, it can be done at all !
To clean the watershed feeding the Lake is quite another and separate challenge altogether.
» Read more
---

Decide:

Rehabilitation
or
Restoration
of the Lake ?
---

Lake Hydrology:
Prevent Lake level fluctuations to secure the marsh function and protect the dike - by building enough reservoir capacity upstream of the Lake
---

Preserve the littoral marshes that assist in water quality control
---

Marsh fires:
Establish controled marsh-burn for controling the exotic species proliferation.
Prevent large out-of-control marsh fires
---

Hydraulic dredging
of the Lake:

Mud is mainly concentrated in the middle of the Lake.
Estimated cost of dredging is $2-3 billion.
The technology cannot remove ~10 cm (4 inches) of residual sediments that would remain at the bottom
---
Dewatering of the dredge: Treatment of water from the dredged mud
---
Solid mud dredge - secure safe disposal or use of the matter
---
---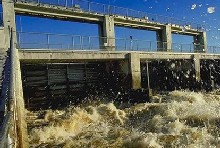 Lake hydrology: Water releases from Lake Okeechobee are necessary in order to regulate the Lake level. They are mainly directed into the Caloosahatchee and St. Lucie Rivers. Due to the high P levels, that water seriously pollutes the rivers and their estuaries. The releses have to be carefully timed with crucially important sensitivity to the downstream ecology and environment.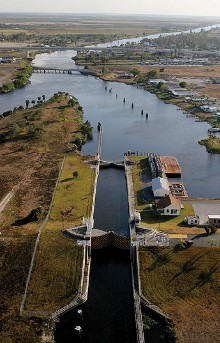 Boats traveling the Caloosahatchee River to Lake Okeechobee must pass through the Moore Haven lock. Just south of it, the spillway opens during the rainy season to let water flow from the lake to the river.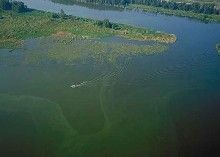 Water quality: Toxic alagal bloom in northern LO where the phosphorus keeps pouring in through the Lake tributaries collecting it from the urban wastes and agricultural fertilizers When the algae die off, they deposit the biomass P in the Lake muds that keep accumulating.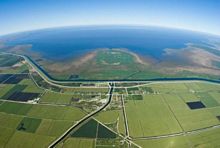 Everglades Agricultural Area (EAA) just south of LO is a "sugar land" that has been drained and cultivated. The idea now is to buy it back and reconnect LO with the Everglades' "River of Grass" - the well meant plan has its problems and controversies.